Character Application Template
Code:


[center][img][/img][/center]
[size=18]Personal Information[/size]
_________________________________________________________________________________________________

[b]Real Name:[/b]
[b]Title:[/b]
[b]Alignment:[/b]  
[b]Age:[/b]
[b]Gender:[/b]
[b]Race:[/b]
[b]Citizenship:[/b]
[b]Religion:[/b]
[b]Hair:[/b]
[b]Skin:[/b]
[b]Eyes:[/b]
[b]Blood Type:[/b]
[b]Height:[/b]
[b]Weight:[/b]

[u][b][size=15]Known Family Members:[/size][/b][/u]

[u][b][size=15]Physical Appearance & Physiology:[/size][/b][/u]

[u][b][size=15]Personality:[/size][/b][/u]

[u][b][size=15]History:[/size][/b][/u]


[size=18]Powers and Abilities[/size]
_________________________________________________________________________________________________

[u][b][size=15]Powers:[/size][/b][/u]

[u][b][size=15]Experience/Abilities:[/size][/b][/u]

[u][b][size=15]Paraphernalia[/size][/b][/u]

[u][b][size=15]Weaknesses[/size][/b][/u]


[size=18]Trivia[/size]
_________________________________________________________________________________________________


[size=18]Images[/size]
_________________________________________________________________________________________________


[spoiler][img][/img][/spoiler]

[spoiler][img][/img][/spoiler]

[spoiler][img][/img][/spoiler]


Character Name
Title of your character, or any other description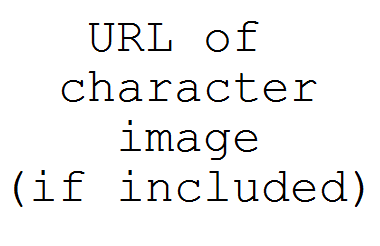 Personal Information
_________________________________________________________________________________________________
Real Name:
The name that your character actually goes by in their own world
Title:
What others call your character, or your characters preferred name
Alignment:
The moral alignment of your character
Age:
The age of your character
Gender:
The gender of your character
Race:
The race where your character hails from
Citizenship:
Where your character takes residence (Not exclusive only to Earth)
Religion:
What religious view your character has (Trust me, it's important)
Hair:
The hair color/style of your character
Skin:
The skin color of your character
Eyes:
The eye color of your character
Blood Type:
The blood type of your character (If not human, merely right down "Fae Blood" or "Vampire" )
Height:
The physical height of your character (Can be ignored by few elementals, who have no set height)
Weight:
The physical weight of your character (Can be ignored by spirits, geist, and few elementals)
Known Family Members:
The known family of your character, whether blood related or not
Physical Appearance & Physiology:
A physical summerization of your character's physical appearance. May include their attire, any noticeable markings or tattoos, possibly even a description of their unique physiology if you desire to do so.  
Personality:
A summary of your character's demeanor and behavoir to things around them, could include how they interact with people and how they deal with stress, happiness, or any other emotions or situations.
History:
The backstory behind your character, where they came from, what they accomplished or what brought them to have their current goals. Also used as a frame of reference as to where your character got their abilities or special items. While history isn't everything to your character, it also carries some importance
Powers and Abilities
_________________________________________________________________________________________________
Powers:
Physical/magical abilities of your characters, whether it is their natural racial abilities, or their own unique magical abilities.
Experience/Abilities:
The capabilities of your character, what knowledge they have, their expertise in weaponry or study, and how good they are at it.
Paraphernalia
The items that your character holds in their line of business, can include anything from a sword to a crossbow. It all depends on your character's background and organization. (Does not include items unique to your characters, which is handled in the Unique Item Applications)
Weaknesses
Physical/spiritual weaknesses of your character, as well as the weaknesses of his race. (For organizational purposes if nothing else)
Trivia
_________________________________________________________________________________________________
Any sort of interesting notes about your character, whether it were IC or OOC development that are worth mentioning. (Can be ignored)
Images
_________________________________________________________________________________________________
Any sort of picture for visual reference of your character
Spoiler:
Spoiler:
Spoiler: